Limited Time Sale!
Hands down one of our bestselling cat trees, this customer favorite features three huge 17 inch diameter platforms/sleeping areas, each with wraparound lips and notched entrances for your favorite kitty's comfort and convenience. This solid hand crafted cat tree features two carpeted scratching posts and one unoiled sisal rope scratching post. Comes in 5 colors, get yours today!
Carpet color shades and textures may vary.
Crafted from solid wood, plush household grade carpet, unoiled sisal rope, and sonic tubes.
Hand built by our skilled craftsmen, using high quality materials.
Comes in five available colors: Beige, brown, blue, green, and gray.
Dimensions: 20" W x 26" L x 50" H
More details:
Base 20" X 20"
Bottom Cat Perch: 15" (Off The Ground) 16"Round With A 3" Lip
Middle Cat Bed: 30" (Off The Ground) 16"Round With A 3" Lip
Top Cat Bed: 47" (Off The Ground) 16"Round With A 3" Lip
Sisal Rope Scratching Post: 27" Long With 16" Of Sisal Rope
Weight: 30 lbs.
110091-New Cat Condos Premier Kiity Pad Cat Tree (01:14)
Great Purchase

Posted by Unknown on 16th Jan 2018

Love it! Both my cats spend every minute in it they can. I have a large cat and one smaller in size and it is perfect. It is sturdy for both of them to jump in middle to lower beds. The carpet that is lining is of good grade. It does not smell as other reviewers had mentioned, thank goodness as it is in our living room. I would definitely purchase it again.

Cats Love It

Posted by Sunshine on 20th Dec 2017

I have large cats that have no trouble fitting in the perches. They love this cat tree. I do, however, have a very large cat scratching post
standing next to it. I am hoping they use the post instead of the tree for scratching.

Top Quality Cat Furniture

Posted by Tracy on 18th Sep 2017

I have bought 3 over the past 30 years with one lasting over 20. I would not buy from any other company.

My cat LOVES this cat tree

Posted by Sunshine on 10th Apr 2017

My cat is almost 12 years old and I just now got around to getting her a cat tree. She's not your typical cat that uses cat things and I was afraid to get something that she wouldn't use. At first she was terrified by it because of the height. My husband suggested sprinkling catnip on it and since then she LOVES this tree. She loves each tier and jumps from one to another. She have definitely gotten some good scratching in and it still looks brand new! Great quality and I may get one for our bedroom too because she likes it in the living room and bedroom. I love it too because less scratching on our carpet and furniture. Thanks for making such a great product!

At Last!

Posted by Unknown on 23rd Feb 2017

I have a condo that 4 different cats have loved over the years and wanted to add another. The ones in the stores just seemed cheap. This one is just like the old one (which may not be the very first one your company ever built, but has been with us for about 20 years!), sturdy and with plenty of room for both of my cats. They love it!

Perfect kitty tree

Posted by Brenda on 8th Jan 2016

My cat loves this tree! As soon as he saw it he was right on it! He tested out all three beds and loves to scratch his nails on it. Its not too big , really a perfect size whether you live in an apartment or have a house. Nice size on the beds-my cat is very long and weighs 13lbs and fits nicely in the round beds.

My cats love this perch

Posted by Stacy on 12th Oct 2015

I put this perch in my bedroom and my cats love it. Mostly they use only the top and second tier but sometimes I'll have 3 cats on it at once. The tiers are large enough for my butterball kitties and this is a nice, sturdy perch and really doesn't take up much space. I highly recommend this product.
The image below is interactive and can rotate in either direction (left or right).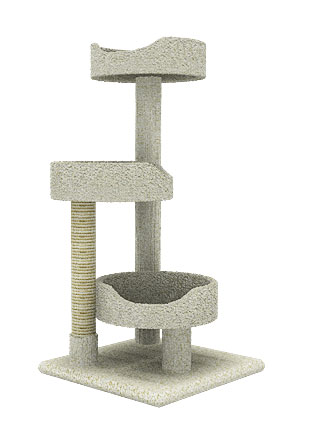 30 Days From Manufacturers Defects